It's 10 Days Until THE HOLLOW GIRL,
the Final Moe Prager Novel!
"

I remembered a slide of a Magritte painting from my Introduction to Art History class–I guess I had college on my mind that day. It's funny what you think about. Anyway, the painting was of a tobacco pipe and the artist called it 

"Ceci n'est pas une pipe."

 In English I'm pretty sure that translates into "This is not a pipe." The point is, it wasn't a pipe. It was a painting of a pipe. And the poster I was looking at wasn't Patrick Maloney. I guess that's what hit me. 

"

–Moe Prager, from Walking the Perfect Square
In celebration of the release on May 18 of The Hollow Girl, the ninth and final Moe Prager novel, we are revisiting some of the words of wisdom and wit from ex-NYPD cop, wine merchant, and sometime private investigator, Moe Prager. Today's quote is from Walking the Perfect Square, the first book in the series.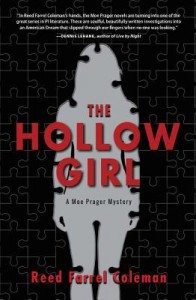 For information on how to pre-order The Hollow Girl please click here.
The source for today's image can be found here.