It's 12 Days Until THE HOLLOW GIRL,
the Final Moe Prager Novel!
"

Wednesdays were my days to open the new shop. Located on Montague Street, Bordeaux in Brooklyn had a bit of a different feel than City on the Vine. Some of that was because Brooklyn, no matter how you dressed her up, would never be Manhattan. She would always be the poor relation in last year's dress; pretty enough, but a half step behind."

–Moe Prager, from The James Deans
In celebration of the release on May 18 of The Hollow Girl, the ninth and final Moe Prager novel, we are revisiting some of the words of wisdom and wit from ex-NYPD cop, wine merchant, and sometime private investigator, Moe Prager. Today's quote is from The James Deans, the third book in the series.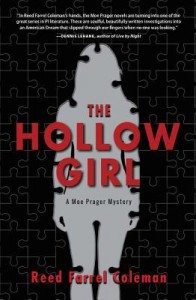 For information on how to pre-order The Hollow Girl please click here.
The source for today's image can be found here.