It's 14 Days Until THE HOLLOW GIRL,
the Final Moe Prager Novel!
"

We ordered dinner: salad and ribs. Eating ribs on a second date takes nerve. It's difficult to look suave gnawing on dead pig bones and licking red goo off your fingers. And scraping sinew out from between your teeth always drives 'em wild."

–Moe Prager, from Walking the Perfect Square
In celebration of the release on May 18 of The Hollow Girl, the ninth and final Moe Prager novel, we are revisiting some of the words of wisdom and wit from ex-NYPD cop, wine merchant, and sometime private investigator, Moe Prager. Today's quote is from Walking the Perfect Square, the first book in the series.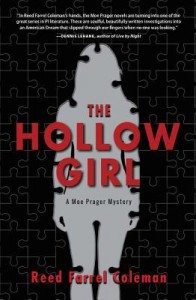 For information on how to pre-order The Hollow Girl please click here.
The source for today's image can be found here.