It's 15 Days Until THE HOLLOW GIRL,
the Final Moe Prager Novel!
"

Humpty Dumpty had nothing on me. No egg ever cracked so well, no window shattered into as many ragged pieces. Me, so hardened, so sure there was nothing new the non-existent God could put on my plate. It galled me that in the end, my mother–think Nostradamus vis-

à-

vis Chicken Little–had been right. "When things are good," she used to say, "watch out." 

–Moe Prager, from The Hollow Girl
In celebration of the release on May 18 of The Hollow Girl, the ninth and final Moe Prager novel, we are revisiting some of the words of wisdom and wit from ex-NYPD cop, wine merchant, and sometime private investigator, Moe Prager. Today's quote is from The Hollow Girl, the final book in the series.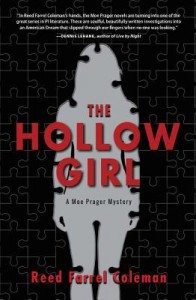 For information on how to pre-order The Hollow Girl please click here.
The source for today's image can be found here.