It's 18 Days Until THE HOLLOW GIRL,
the Final Moe Prager Novel!
"

[She] reached into her bag, unfolded a newspaper article, and slid it across the table to me. I didn't want to look. I didn't want to look because this was how it started, how it always started. Whenever someone wanted to hire me, this was how it began: a newspaper or magazine article shoved into my hand or pushed across a tabletop."

–Moe Prager, from Innocent Monster
In celebration of the release on May 18 of The Hollow Girl, the ninth and final Moe Prager novel, we are revisiting some of the words of wisdom and wit from ex-NYPD cop, wine merchant, and sometime private investigator, Moe Prager. Today's quote is from Innocent Monster, the sixth book in the series.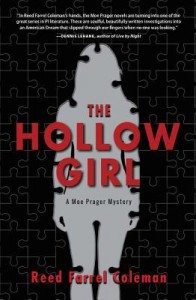 For information on how to pre-order The Hollow Girl please click here.
The source for today's image can be found here.