It's 2 Days Until THE HOLLOW GIRL,
the Final Moe Prager Novel!
"

There's just something about men and hardware stores. I am by no means a handy sort. The tool I use best is the telephone, to call the superintendent. It's to civilization's benefit that it was never dependent upon my dexterity to move from one stage of development to the next, or we'd still be without fire, stone tools, and the wheel. Having said that, I could spend endless hours strolling the aisles of nuts and bolts, plungers and pipes, paints and pry bars. Even the scent of a hardware store was like a siren's song.

"

–Moe Prager, from Redemption Street
In celebration of the release on May 18 of The Hollow Girl, the ninth and final Moe Prager novel, we are revisiting some of the words of wisdom and wit from ex-NYPD cop, wine merchant, and sometime private investigator, Moe Prager. Today's quote is from Redemption Street, the second book in the series.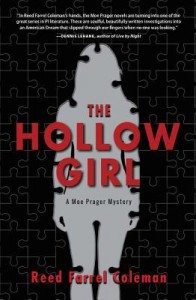 For information on how to pre-order The Hollow Girl please click here.
The source for today's image can be found here.