It's 20 Days Until THE HOLLOW GIRL,
the Final Moe Prager Novel!
"

Steeplechase Park was still open back then. They had this really cool ride with wooden horses on tracks, and you could fly around the park as if you were in a real steeplechase race like the kind they had in England. But by the time I took the oath and was assigned to the 60th precinct, Steeplechase Park had been razed and the wooden horses sent to the scrap heap. They don't make glue out of wooden horses, just splinters."

–Moe Prager, from Soul Patch
In celebration of the release on May 18 of The Hollow Girl, the ninth and final Moe Prager novel, we are revisiting some of the words of wisdom and wit from ex-NYPD cop, wine merchant, and sometime private investigator, Moe Prager. Today's quote is from Soul Patch, the fourth book in the series.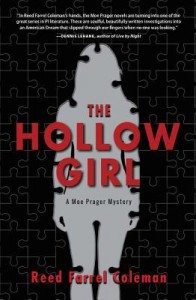 For information on how to pre-order The Hollow Girl please click here.
The source for today's image can be found here.