It's 22 Days Until THE HOLLOW GIRL,
the Final Moe Prager Novel!
"

One myth every cop, myself included, buys into is that he can smell a rat. What civilians get wrong is that crap about reasonable doubt. Reasonable doubt is for juries, not cops. Cops don't doubt. Cops make up their minds early. Whenever you hear that nonsense about the cops having no suspects, it's pure bullshit. Cops alway have suspects. It's getting the evidence to fit that's the hard part."

–Moe Prager, from The James Deans
In celebration of the release on May 18 of The Hollow Girl, the ninth and final Moe Prager novel, we are revisiting some of the words of wisdom and wit from ex-NYPD cop, wine merchant, and sometime private investigator, Moe Prager. Today's quote is from The James Deans, the third book in the series.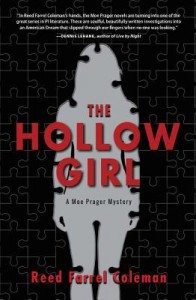 For information on how to pre-order The Hollow Girl please click here.
The source for today's image can be found here.