It's 27 Days Until THE HOLLOW GIRL,
the Final Moe Prager Novel!
"

The sun filled my rearview as I drove along the Belt Parkway to the Gowanus. This part of the Belt could be very beautiful, especially in early morning. From Bay Parkway west, the roadway swooped along the shoreline and you could race with container or cruise ships sailing beneath the Verrazano and into the hungry mouth of New York Harbor

."
–Moe Prager, from Empty Ever After
In celebration of the release on May 18 of The Hollow Girl, the ninth and final Moe Prager novel, we are revisiting some of the words of wisdom and wit from ex-NYPD cop, wine merchant, and sometime private investigator, Moe Prager. Today's quote is from Empty Ever After, the fifth book in the series.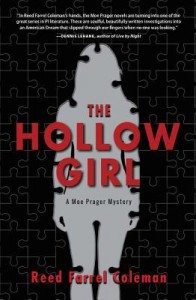 For information on how to pre-order The Hollow Girl please click here.
The source for today's image can be found here.