It's 28 Days Until THE HOLLOW GIRL,
the Final Moe Prager Novel!
"

On Easter Sunday of 1972 a little girl went missing. Seven-year-old Marina Conseco was the youngest of five brothers and a sister. Her dad, a divorced city fireman, had left Marina in the charge of her older siblings while he went to get some hot dogs and fries at Nathan's. When he returned, he noticed Marina was missing. Three days later, she was still missing.

"

–Moe Prager, from Soul Patch
In celebration of the release on May 18 of The Hollow Girl, the ninth and final Moe Prager novel, we are revisiting some of the words of wisdom and wit from ex-NYPD cop, wine merchant, and sometime private investigator, Moe Prager. Today's quote is from Soul Patch, the fourth book in the series.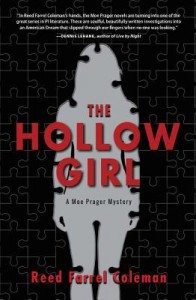 For information on how to pre-order The Hollow Girl please click here.
The source for today's image can be found here.