It's 30 Days Until THE HOLLOW GIRL, the Final Moe Prager Novel!
"First kisses are a revelation, so uncomplicated and so unlike firsts in bed. Somehow, the awkwardness of first kisses adds to their beauty. Which way should I tilt my head? Will she mind if I cup her chin in my hand or should I hold her in  my arms or should I touch her at all? Will she close her eyes? Should I look to see?…And when, in the end, in spite of your considerable calculation, you bump noses, it's funny and the tension burns off like fog."

–Moe Prager, from Walking the Perfect Square
In celebration of the release on May 18 of The Hollow Girl, the ninth and final Moe Prager novel, we are revisiting some of the words of wisdom and wit from ex-NYPD cop, wine merchant, and sometime private investigator, Moe Prager. Today's quote is from Walking the Perfect Square, the first book in the series.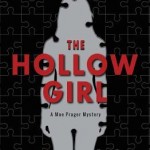 For information on how to pre-order The Hollow Girl please click here.
The source for today's image can be found here.