It's 4 Days Until THE HOLLOW GIRL,
the Final Moe Prager Novel!
"

There was the newspaper and a note for me on the kitchen table. I was confident the note was from Aaron, probably lambasting me for coming home drunk, for being a lazy, aimless piece of shit with no ambition and no future. I was getting a little tired of his notes and lectures, so I didn't look at the note until I'd fortified myself with some of my mom's coffee. Fortified being the key word, because if you could survive the over-percolated and burnt black goo that passed for coffee in the Prager household, you could survive almost anything.

"

–Moe Prager, from Onion Street
In celebration of the release on May 18 of The Hollow Girl, the ninth and final Moe Prager novel, we are revisiting some of the words of wisdom and wit from ex-NYPD cop, wine merchant, and sometime private investigator, Moe Prager. Today's quote is from Onion Street, the first book in the series.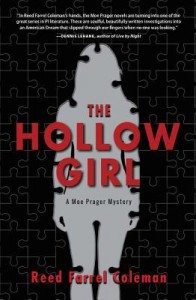 For information on how to pre-order The Hollow Girl please click here.
The source for today's image can be found here.