It's 7 Days Until THE HOLLOW GIRL,
the Final Moe Prager Novel!
"

Over time, I'd seemed to shed friends as a snake does skins. They tell me it's natural. Things change. People change. They get married. They have kids. They get divorced. They stop smoking. They take up golf. Some die. I'd accelerated the shedding process by becoming a cop, not the most popular career choice for a college student in the late sixties. Though cops were no longer on the top of everyone's shit list, friendships are hard to rekindle. Both parties need to be up for the awkwardness of it all. More often than not, it was like a one-armed man trying to light a fire with two sticks.

"

–Moe Prager, from Redemption Street
In celebration of the release on May 18 of The Hollow Girl, the ninth and final Moe Prager novel, we are revisiting some of the words of wisdom and wit from ex-NYPD cop, wine merchant, and sometime private investigator, Moe Prager. Today's quote is from Redemption Street, the second book in the series.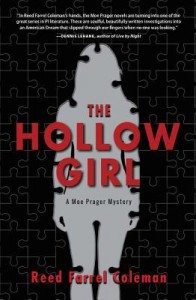 For information on how to pre-order The Hollow Girl please click here.
The source for today's image can be found here.