It's 9 Days Until THE HOLLOW GIRL,
the Final Moe Prager Novel!
"

There may be no silence in Brooklyn, ever, but there are lulls when its symphony quiets down just enough to hear individual instruments: a tugboat horn, the squeal and rumble of a lone subway, the 

thwack, thwack, thwack

 of a low-flying helicopter. I used to love this time of night. I would sit on the steps outside Bordeaux In Brooklyn and listen to the reassuring buzz of tires along the metal grate deck of the Brooklyn Bridge. The buzz was gone now that they had paved over the deck. I knew it was silly to miss it and that the bridge was far safer this way, especially in the rain. Still, I listened for the buzz…

"

–Moe Prager, from Empty Ever After
In celebration of the release on May 18 of The Hollow Girl, the ninth and final Moe Prager novel, we are revisiting some of the words of wisdom and wit from ex-NYPD cop, wine merchant, and sometime private investigator, Moe Prager. Today's quote is from Empty Ever After, the fifth book in the series.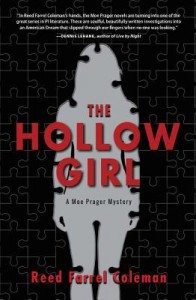 For information on how to pre-order The Hollow Girl please click here.
The source for today's image can be found here.