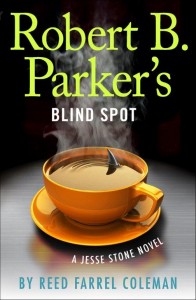 I remember it so vividly that you might think I expected the call and was prepared to remember it, but I wasn't. It was early May 2013, and I was getting ready to fly to St. Louis the next morning for my annual Suspense Night gig at the St. Louis County Library. I saw on my TV screen that the person on the phone would be my agent, David Hale Smith of Inkwell Management. I reached for the phone and answered with my usual greeting, "Hey, David. What's up?" I had no idea that his answer would change my life.
I mean, we all dream about unexpected magical moments—chance encounters, phone calls, emails—that will transform us, but do we ever really believe they will happen? Well, when David said, "How would you like to be Robert B. Parker?" it took me about a nanosecond to say yes. From that moment on my life has been turned on its ear.
There were three compelling reasons I suspected (and hoped) David was talking about the Jesse Stone novels.
I knew my old pal Ace Atkins was doing a bang up job with the Spenser novels, and there would be no way Ace would willingly give up that gig. I also knew that while I'm a pretty adaptable writer, I'd never done a Western before. So I didn't figure anyone was asking me to write a Virgil Cole and Everett Hitch novel.
But the overriding reason I hoped David was asking about the Jesse Stone novels was that Jesse Stone is a character with enormous appeal for me. I'd written an essay about Jesse entitled "Go East, Young Man: Robert B. Parker, Jesse Stone, and Spenser" for the book In Pursuit of Spenser, edited by Otto Penzler. In doing the research for the essay, I found a rare and magical thing that only master writers like Mr. Parker could create: the perfectly flawed hero. Easy for writers to create heroes. Easy for writers to create characters with flaws. Not so easy to do both. But Robert B. Parker was an alchemist who turned simple concepts into enduring characters.
I had had the good fortune of meeting Mr. Parker on a few occasions and I also had the honor of meeting his wife and muse, Joan. I can't say that I knew them, but having met them and knowing Ace as well as I do gave me the confidence that I could do justice to Robert B. Parker and most importantly, to Jesse Stone. Having published around twenty novels—and having created a few hopefully memorable characters of my own—I love the challenge of continuing Robert B. Parker's Jesse Stone series.
I think Blind Spot is a good beginning and I hope fans of the series and of Mr. Parker enjoy the novel and those to follow.