From the October 2013 newsletter at StopYoureKillingMe.com:
WHAT WE ARE READING
Here are some of our favorite books from the last month: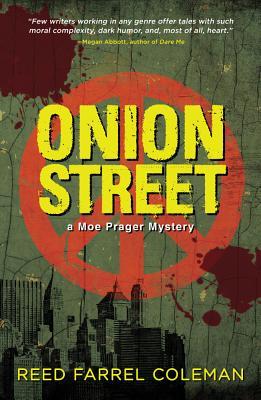 ONION STREET
(Tyrus 2013) opens with Moe Prager, recovering from cancer treatment, and his daughter Sarah at the funeral of Bobby Friedman, Moe's oldest friend. After the funeral, Sarah asks Moe how he became a cop, and he tells the story of his life in 1967. Moe is half-heartedly attending Brooklyn College, living at home in Coney Island, and hanging out with Bobby, whose current scheme is to offer free rides to the airport in exchange for being named beneficiary of flight insurance. Everything changes when Moe's girlfriend Mindy is brutally beaten and left to die on a snowy sidewalk the same evening that Bobby was nearly killed by a car in a purposeful-looking hit-and-run. The previous day Mindy had not been her normal self, instead drinking too much, mourning the death of Samantha Hope, a campus radical she never even liked, and warning Moe to stay away from Samantha's boyfriend Bob by. Samantha died in a car explosion a few months earlier, the result of the premature explosion of a bomb the police believe was intended for the draft board offices. Moe enlists the help of Lids, a brilliant MIT dropout now dealing drugs, to track down the young man seen near Mindy on the sidewalk. Following that trail leads Moe to the fix-it shop of a bitter Holocaust camp survivor and attracts the notice of both the underground radical group Samantha was involved with as well as the local Mafia. Coleman has fun reliving the 1960s in this prequel: Moe wonders why he didn't just make a call at one of the nine phone booths he just passed and later laughs at a scheme to produce a personal computer smaller than a television set.