On April 29, 2015, Reed presented the Raven Award to Jon and Ruth Jordan at the Edgar Awards banquet in New York. This is the text of his speech.
I believe this is the third time I have been on this stage, behind this podium, and been given the distinct honor and pleasure of introducing parties selected to receive the Raven. The last time it was to honor Johnny Temple and the folks at Akashic. Prior to that I was up here to hand the Raven to Pat Frovarp and Gary Shulze of Once Upon a Crime Bookstore in Minneapolis. And today I am here to introduce the five of you out there who don't know them, to Ruth and Jon Jordan, the two coolest people in Milwaukee, Wisconsin. Which is saying a lot, because there are a lot of cool folks in Milwaukee.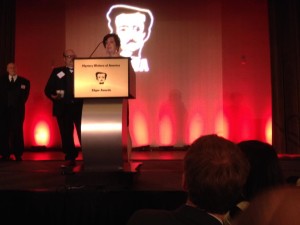 The thing about Ruth and Jon is that unlike Johnny or Pat and Gary, their contribution to the crime fiction and mystery community is both more amorphous and wide-ranging. They don't own a bookstore nor are they book publishers. Yes, they are the publishers of Crimespree Magazine and yes they have given any number of people their first chance at doing an interview, writing a review or publishing their first short story, but their contributions go way back and way beyond the inaugural issue of Crimespree.
But I don't stand before you to list their accomplishments for they are too numerous to list. These two folks, with a little help from friends like Judy Bobalik, have put on incredibly successful Bouchercons. They were the driving forces, with their friend Penny Halle, behind Murder and Mayhem in Muskego. And when the Muskego Library pulled their funding for the event, they, as if by sheer force of will, managed to put on an even better event now known as Murder and Mayhem in Milwaukee. There really are people who say, "Let's put on a show," and make it happen. That's Jon and Ruth.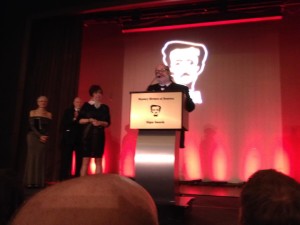 But their greatest contribution to this community is love: the love of fellow readers, the love of the written word, and most especially of the men and women who write those words. Ruth and Jon have the largest extended family I've ever seen or had the pleasure to be a part of. It's so large because most of the people in this room are part of it, too.
At their house, the door is always open to us. There's always a bed to sleep in. Always friends to pick you up or drop you off at the airport. Always someone to take you to dinner or over to the bookstore. Always a sympathetic ear when your career is going to hell. Always someone to celebrate with when things are looking good. So ladies and gentlemen, please let's show them some love in return with our applause: Ruth and Jon Jordan.